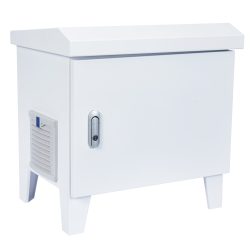 Outdoor Cabinet, Housing for Pond Aerator, fit for PAS10/20 System.
Galvanized Steel Housing, Good Quality and Reliable. Waterproof and quiet, 10 dB noise decline.
Good Ventilation, Dust-free. 21W Cooling Fan and two sponge air filters included.
OVERVIEW
Benefits
Lower down the noise, 10dB.
Easy installation, very few manintenance needed.
Protect the pump away from sunshine/rain/snow/small flooding.
Ventilate the air compresoor, very important for the life time.
Two sides air fiter, dust-free, protect the air compressor.
Inner outlet provided, no need hard wire. Outside 10′ 3-ping electric cord with plug could fit for outdoor outlet.
Full warranty covered. 2 Years for the electrical part and 5 Years for the cabinet itself.
Why is the ventilation so important?
For the air compressor, the ambient temperature is so important. It should not over 105°F (40°C) for long time using. It would fast the worn out of the bearing and motor in the air compressor. If you want DIY a housing like this one, you should open at least two 6"-10" holes on two sides of the pump fans, and install a 6" 20W cooling fan towards to the center of the pump, where the motor stay.
FEATURES & SPECS
SUPPORT
WHERE TO BUY