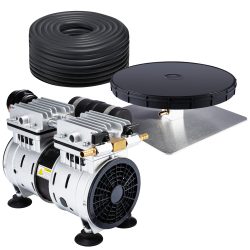 1/2 HP Pond Aeration System fit for up to 1 acre, 65ft deep pond.
Quiet and Powerful. 4.7 Cubic Feet Per Minute, 60dB.
Good Quality and Reliable. 2 Year warranty for the pump, 5 year warranty for the diffusers and airlines.
OVERVIEW
Benefits
Keep the water clear and reduce the chance of fish kills.
Avoid algae booming and muck accumulation. Reduce the awful odor and swarming pests.
One diffuser and one airline provided, to help aerate a large pond, up to 1 acre.
Eco-friendly and less maintenance with a quiet oil-less rocking piston compressor.
Durable self-sink weighted air tubing and non-stick membrane diffuser create a better performance of the aeration.
Full warranty covered.  2 Years for the compressor and 5 Years for the diffuser and tubing.
Why you need a Aeration system?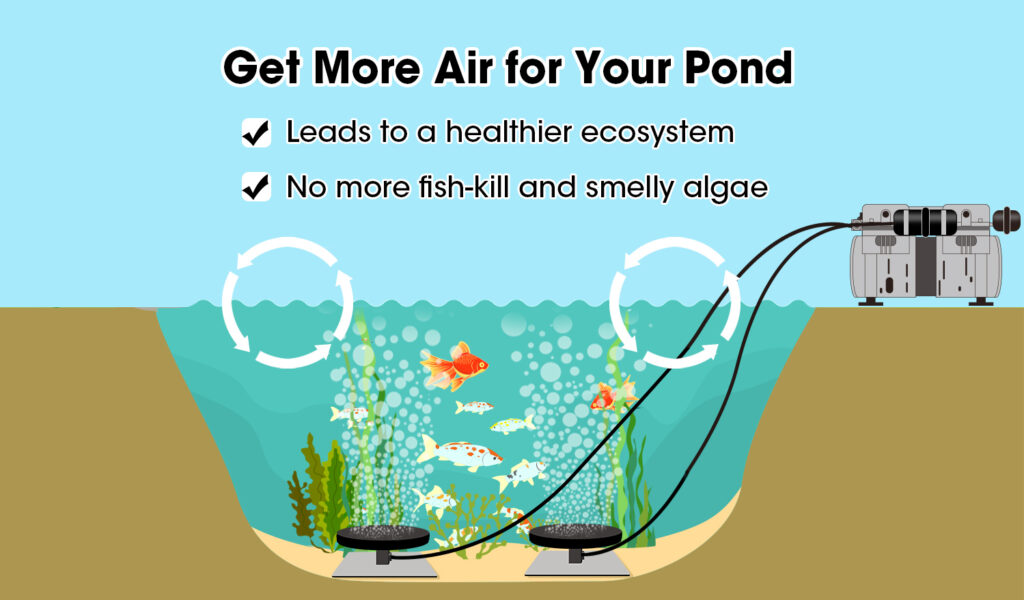 Eutrophication happens when there are too many animals/plants/algaes around the pool or the chemical pollution occurs, such as pesticides, herbicides. And that is the reason of algae blooming/fish kills/awful odor/muck accumulation/turbid water body. 
To solve that, the key point is increasing the aerobic bacteria by more dissolved oxygen. To help the degradation of the organics. And provide more oxygen to help the fish breath.
A pond aeration system would also "turn the pond over", make sure the bottom would get aerated (in the natrual way, the oxygen level would goes down very quickly from the water surface to the bottom), such fishs and plants that live near the bottom would get a better environment.
FEATURES & SPECS
SUPPORT
WHERE TO BUY